Children's Books Going Overseas from Japan
※This exhibition has ended.

The International Library of Children's Literature (ILCL), which opened in 2000, the National Year of Reading for Children, celebrates its 10th anniversary in this National Reading Year. Commemorating this 10th anniversary, the ILCL holds the exhibition "Children's Books Going Overseas from Japan," which shows the international spreading of Japanese children's books.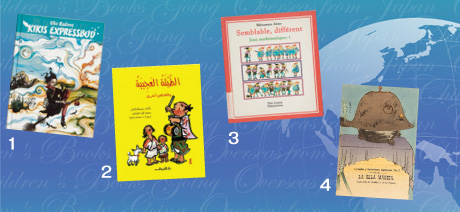 1. Kikis expressbud (Swedish version of "Majo no takktuubin") Ordbilder 2006
2. الطبلة العجيبة و قصص أخرى (Arabic version of "Fushigi na taiko") دار الشروق (c)Dar El Shorouk 2006
3. Jeux mathématiques (French version of "Hajimete deau suugaku no ehon")  Père Castor Flammarion c1994
4. La Olla mágica (chirimen bon)(Spanish translation of Japanese folk tale "Bunbuku chagama") T.Hasegawa [1914?]
The exhibition consists of "Part 1: Tower of Publication," "Part 2: Tower of Culture," and "Part 3: Special Corners." In the "Tower of Publication," we introduce state of translation from 1960s to present according to each period, characteristics of five countries and regions that translate and publish most Japanese children's books, and translation of nonfiction works. In the "Tower of Culture," first we will compare the original and the translated versions of internationally acclaimed works or picture books and literature that have been long familiar to Japanese readers. Then, we refer to the acceptance of Japanese folktales in overseas countries, and display some chirimen bon (crepe-paper books) in the ILCL collection. In addition, there are four "Special Corners" where every author and work is investigated in a little more detail.
We hope you will enjoy the exhibition and think about how children overseas accept Japanese children's books.