> Japanese Authors of Children's Literature: A Special-Feature Section of Outstanding Authors
Japanese Authors of Children's Literature: A Special-Feature Section of Outstanding Authors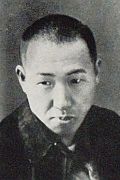 Kenji Miyazawa
1896-1933 List of books
Kenji Miyazawa was born and remained living in the present-day Hanamaki City, Iwate Prefecture, till the end of his day. In Kenji's time, Iwate was beset by earthquakes and tsunami and also suffered from cyclical poor harvest due to severe weather. He studied agricultural chemistry at the Morioka Agriculture and Forestry College(present Iwate University), a school founded to strengthen the prefecture's agriculture, and afterwards became a teacher at an agricultural high school.
He had been writing tanka (classical Japanese poems) and poems since Morioka junior high school, and began writing dowa (children's stories) around 1918, when he was in college.
In 1920, Kenji joined Kokuchukai, a religious group headed by Chigaku Tanaka. In January of the following year, he went to Tokyo without his family's permission to propagate, and a large number of dowa were written during this period. In August of that same year, he returned to Iwate after hearing that his sister Toshi had fallen ill, bringing with him a large suitcase full of the dowa manuscripts he wrote. In 1924, he published Haru to Shura [Spring and Asura] and Chumon no oi ryoriten [The restaurant of many orders].
"No matter how little we possess of the rock sugar of our desire, we can always taste the beautiful transparency of the wind and drink in the glorious peach-colored morning sunlight. Among the fields and groves, I have often seen awful tattered kimonos change into the most beautiful velvet or woolen cloth adorned with jewels." –Preface of Kenji's short story collection Chumon no oi ryoriten [The restaurant of many orders].
This collection of dowa is entitled "Ihatov dowa (Children stories of Ihatov)." When the book was published, it was printed in the flyers that "Ihatov is the name of a place," and "Actually, it is Japan's Iwate Prefecture as a dreamland which does exist (in this way) in the author's imagination." In reality, Iwate in those times was far from a dreamland. Even so, Kenji overlaid "Japan's Iwate Prefecture" as the dreamland "Ihatov."
Kenji Miyazawa's works were written by his imagination power, which transformed "Japan's Iwate Prefecture" to "Ihatov" and "awful tattered kimonos" to the "most beautiful" kimono, providing great joy and giving hints about how we should be as a human being.