> Japanese Authors of Children's Literature: A Special-Feature Section of Outstanding Authors
Japanese Authors of Children's Literature: A Special-Feature Section of Outstanding Authors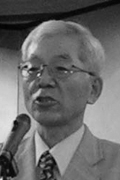 Masamoto Nasu
1942- List of books
Masamoto Nasu was born in Hiroshima City. At the age of three, he was exposed to radiation in Hiroshima, where the atomic bomb was dropped. After studying forest entomology at Shimane Agricultural University, he worked in Tokyo for a short time as an office worker, then returned home and began helping with his father's calligraphy school. His elder sister, children's writer Mayumi Takeda, invited him to join the Hiroshima Society for Children's Literature. He began writing children's literature while continuing to interact with the children attending his father's calligraphy school.
His debut work was the Kubinashi jizo no takara [The treasure of the headless jizo](1972), a treasure hunt novel. He has vigorously published his works since then. Many of his works poses problems to children, such as Yaneura no tooi tabi [Distant journey in the attic](1975), which use science fiction techniques to help children experience what is was like when Japan was at war. He talks about war in the 1995 picture book E de yomu Hiroshima no genbaku [Hiroshima: A tragedy never to be repeated] (illustrations by Shigeo Nishimura) and 1984 non-fiction work Orizuru no kodomotachi: Genbakusho to tatakatta Sasaki Sadako to kyuyutachi [The children of the paper crane: The story of Sadako Sasaki and her struggle with the A-Bomb disease]. The 1992 picture book Nendo no kamisama [The clay god] (illustrations by Miho Takeda) depicts the fading memories of war experience among Japanese and makes children think about the difficulty of living peacefully.
In 1980, Nasu published Bokura wa umi e [We'll go out to the sea], which was different from the stereotype way of the ideal children's literature. On the other hand, from 1978 to 2004, he also published fifty volumes of Zukkoke sanningumi [Funny trio] series about the adventures of a sixth grade trio of boys named Hachibei, Hakase and Mo-chan. Presented as entertainment, the series showed the children readers various problems they face in the present, past and future, and gained such a large readership, and it can be considered a "cultural education" for children for a certain period in Japan.