> Japanese Authors of Children's Literature: A Special-Feature Section of Outstanding Authors
Japanese Authors of Children's Literature: A Special-Feature Section of Outstanding Authors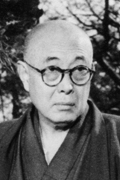 Courtesy of Mimei Ogawa Literature Museum
Mimei Ogawa
1882-1961 List of books
Mimei Ogawa began writing novels while studying at Waseda University. After graduation, he was involved in editing the magazine Shonen bunko [Children's library] and began writing children's stories. In 1907, he published his first collection of short stories, Shujin [Bundle of sorrow] with Ryubunkan and his first collection of dowa (children's stories), Akai fune [Red boat], in 1910 from Kyobundo. Mimei was a neo-romantic novelist, but also moved toward socialism over time. After the announcement of Kongo wo dowa sakka ni [Mimei's intention to dedicate himself to writing children's stories] in 1926, Mimei ended his career as a novelist and decided to devote himself on dowa. He published about 1,200 dowa in his lifetime.
Mimei Ogawa was heavily criticized in the 1950s. After the long period of war, writers of children's literature had tried to explore what and how they should write for children in the midst of new post-war realities through critical examinations of Mimei's works. Dying people, withering plants and destroyed towns ― Mimei's themes for dowa were considered negative and not appropriate for children's literature. His words were also criticized as being incantation-like and difficult to understand. Thus, from around 1960, Japanese children's literature shifted from the modern dowa style represented by Mimei to contemporary children's literature.
However, in the 1980s, the importance of avoided issues such as death, started to be recognized and began to be addressed in contemporary works. Some critics said Mimei's dowa was "undifferentiated children's literature," which meant that it was not a children's literature clearly delineated from adult literature. Also, many works published after the 1990s don't have a clear line between "children's literature" and "literature." This could be said to be a reinstatement of Mimei's thinking; even fifty years after his death, his works continue to shed light upon literature for children.