> Part 6 Children's Literature in the 21st Century: Children's Literature
Part 6 Children's Literature in the 21st Century: Children's Literature
1. Images of Children in the New Century
Masamoto Nasu's Bokura wa umi e [We'll go out to the sea] (1980) offered an opportunity to reconsider idealism in children's literature, an idealism that persist children can overcome the difficulties they face. This is also described in Part 4. As realism in children's literature became to represent children's settings deep in detail, idealism in children's literature became harder to be written. Since the 1980s, children's literature has shifted to a premise in which it is unknown whether or not a child will be able to overcome a problem through his or her own power.
Since the 1980s, Ryuji Goto worked even more on his idealism. Goto wrote works about children who spend their life having bullying and violence in their school. His five-volume series, Junisaitachi no densetsu [Legend of 12 years old] (2000–2004) is written in short layered chapters. In each chapter, various students in the class speak in the first person. With a mosaic of children's stories, the reader starts to understand the atmosphere of the class. There are twists and turns, but the story eventually moves in a promising direction.
Symbolically speaking, Masamoto Nasu's Bokura wa umi e and Ryuji Goto's Junisaitachi no densetsu serve as two side poles with a projection screen stretched between them, projecting the current children's literature on the screen. Here, we would like to introduce various attempts to depict the image of children in the 21st century.
Ryuji Goto died suddenly in 2010 at the age of 67, leaving children's literature in Japan without one of its supporting poles. Where is children's literature heading to?
2. The Wave of Young Adult Literature (YA) and Acceleration of Nonsense
Contemporary children's literature uses prosaic wording to depict 'war' and 'society' that causes it. From the late 1970s, themes which have been previously avoided in children's literature (such as sex, death and family disintegration) rather became actively portrayed in works as themes associated with human nature. At least in the aspect of theme, children's literature became to have no significant difference from literature.
Contemporary children's literature, deepened by various themes, has broadened its readership to junior and senior high school students, even attracting adult readers. The genre of Young Adult literature (YA) have been formed here. It can be said that, development of YA is demonstrating the richness of children's literature. At the same time, if we consider the traditional readership of children's literature to be elementary school students, the state of writers' interest shifting away to YA can be related to a hollowing out of children's literature.
Here, we'd like to introduce a new crop of young children's literatures aimed at elementary school students in grade 2 to 3.
【Column】The Waves of Young Adult Literature (YA)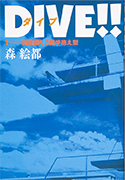 6-2-11Dive!! (Mae chugaeri 3kaihan kakaegata [Forward 3 1/2 somersault tuck dive]) 1
Written by Eto Mori
Kodansha 2000
Call No. KH372-G584
A vivid story of junior high school students, striving to play in the Olympic to support the weak diving club where they belong. It was later made into a film.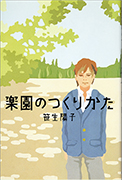 6-2-12Rakuen no tsukurikata [How to build a paradise]
Written by Yoko Saso
Kodansha 2002
Call No. KH526-G614
A story of a second grade junior high school student, Yu, moved to a rural school for his parent's reasons and gradually face the unacceptable reality. The story is told by talkative first person. Also a TV drama was created.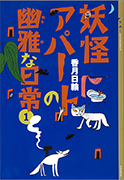 6-2-13Yokai apato no yugana nichijo [The elegant life in the ghost apartment] 1
Written by Hinowa Kozuki
Kodansha 2003
(YA!entertainment)
Call No. Y8-N03-H967
A modern story of growth, written through the eyes of a high school boy, Yushi, who gradually accepts the mysterious experiences which happens in front of him and tries to overcome the tough reality as well.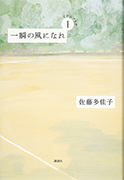 6-2-14Isshun no kaze ninare, daiichibu (Ichi ni tsuite) [Be the wind of the moment, part 1 (On your mark)]
Written by Takako Sato
Kodansha 2006
Call No. KH537-H600
Dilemmas of high school students are depicted through the two sprinter boys who joined the field and track club. Made into movies and comics.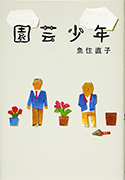 6-2-15Engei shonen [Gardening boys]
Written by Naoko Uozumi
Kodansha 2009
Call No. Y8-N09-J1007
Three boys different in the type, unexpectedly joined the gardening club at high school and gradually find solutions to problems they have deep inside their heart.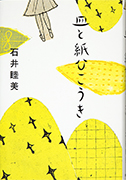 6-2-16Sara to kamihikoki [Plates and paper airplanes]
Written by Mutsumi Ishii
Kodansha 2010
Call No. Y8-N10-J646
A story depicting the growth of a high school student girl, Yuka, who lives in 'Sarayama' of Kyushu, a basin where only families of ceramicists live.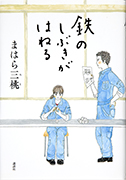 6-2-17Tetsu no shibuki ga haneru [Iron splash]
Written by Mito Mahara
Kodansha 2011
Call No. Y8-N11-J283
Shin, a girl studying at an industrial high school to be a system engineer, rediscovers herself by working on 'lathes' which is a 'manufacturing' process by hand.
【Column】The Acceleration of Nonsense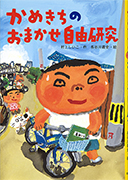 6-2-18Kamekichi no omakase jiyu kenkyu [Research project of Kamekichi]
Written by Shiiko Murakami/Illustrated by Yoshifumi Hasegawa
Iwasaki Shoten 2003
(Ohanashi gaden [Garden of stories] 1)
Call No. Y8-N03-H538
A story that answers many 'Why?'s through the unique life of 'Kamekichi' who is thinking about summer holiday's research project. The Osaka dialect is also charming.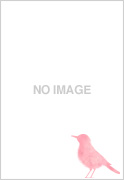 6-2-19Fushigi no mori no Yaya [Yaya in the wonder forest]
Written by Rintaro Uchida/Illustrated by Jun Takabatake
Kin-no-Hoshi Sha 2004
Call No. Y8-N04-H905
Heartwarming interaction of Yaya, a boy with a body of a baby pig and ears like a rabbit, and the weird habitants of the mysterious forest is written. Full of curious conversations such as ♪walk, walk, walk, two steps is a walk. / ♪Walk, walk, walk, a thousand steps is a walk.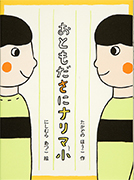 6-2-20Otomodasa ni narimasho [Let's be friends]
Written by Hoko Takadono/Illustrated by Atsuko Nishimura
Froebel-Kan 2005
Call No. Y8-N05-H570
Haruo who has just become a first grader of elementary school, strays into a fox's elementary school. Funny and warm interaction between people and fox starts.
6-2-21Kino no yoru, otosan ga osoku kaetta, sonowake wa... [Why daddy came home late last night]
Written by Nobuko Ichikawa/Illustrated by Koshiro Hata
Hisakata Child 2010
Call No. Y8-N10-J454
The story evolves with the father telling 'Akkun' why he came home late last night. Mysterious story of his father and animals is rhythmically described by using onomatopoeia.
3. The Death of Taruhi Furuta and The End of 'Contemporary Children's Literature'; The Maturation of Fantasy and Nahoko Uehashi Receiving the Hans Christian Andersen Award for Writing
Children's literature critic and writer Taruhi Furuta died on June 8, 2014. The year before, on February 14, 2013, children's literature critic and researcher Shin Torigoe passed away. Although it is considered that the era of contemporary children's literature began in 1959, Furuta and Torigoe took the lead in designing contemporary children's literature in the 1950s, which uses prosaic wording to describe the circumstances (society) surrounding children. From 1960s, Taruhi Furuta started creating his original works and taking an important role as contemporary children's literature author. Now, after Furuta's death, it can be said that 'contemporary children's literature' rose as an idea which created an era of Japanese children's literature, and 'contemporary children's literature' marked the end of the era.
In March 2014, Nahoko Uehashi's selection as a winner of the Hans Christian Andersen Award for Writing was announced. She is the second Japanese recipient of this award for writing, after Michio Mado won in 1994. The era of contemporary children's literature began in 1959 with Satoru Sato's Dare mo shiranai chiisana kuni [The tiny country that nobody knows] and Tomiko Inui's Kokage no ie no kobitotachi [Yuri and the little people]. The publication of these titles was also the point of departure for Japanese fantasy. Nahoko Uehashi's Hans Christian Andersen Award for Writing marks the maturation of Japanese fantasy and is true sign of the genre's ability to reach people around the world.
The Waves of Young Adult Literature (YA)Back
Eto Mori and Takako Sato began as children's literature authors, but eventually began writing adult fiction. Just as adult readers became attracted to YA novels, YA authors 'crossed the border' to the literature for adults. Without clearly defined borders for children's and adult's literature, the essence of children's literature also continues to be questioned.
The Acceleration of NonsenseBack
In young children's literature, new interesting stories have been generated by a radical experiment, which is done by combining wordplay and a spirit of nonsense.
The Death of Taruhi Furuta and 'Contemporary Children's Literature'Back
Taruhi Furuta (1927–2014) was a 'militarist boy' who grew up when Japan was engaged in war. In his Shukudai hikiuke kabushikigaisha [Homework, Inc.] and other works, Furuta portrayed children observing the world and thinking and debating, which might have been an opportunity for the author to reexamine his own childhood.
Furuta attempted to create 'contemporary children's literature' by criticizing Mimei Ogawa and other writer's Mimei Ogawa and other writer's dowa (children's stories) which envisioned imaginary landscapes using poetic and abstract wording. It might be the time to read 'dowa' again to reconsider children's literature.
Maturation of Fantasy and Nahoko Uehashi Receiving the Hans Christian Andersen Award for WritingBack
Nahoko Uehashi (1962–) debuted as a children's literature author with the publication of the fantasy works Seirei no ki [The sacred tree] in 1989 and Tsuki no mori ni kami yo nemure [O God of the moon forest, sleep] in 1991.
The world of dualism of dark and light, consciousness and unconsciousness presented in Moribito [Guardian] series is quite different from the one in the Kemono no soja [The beast player] series. The world of dualism causes conflict, but Erin, the heroine of Kemono no soja is not a fighter like Balsa, the bodyguard and heroine of Moribito. Instead, the story shows how Erin constantly tries to reach out to Lilan, the Ouju (king of beasts). In Kemono no soja, Uehashi broke away from the action-filled Moribito (in which Balsa defeats her enemies by a lightning fast counterattack). In this way, authors must move forward and might be unavoidable to deepen their stories. One can expect that Japanese fantasy will continue to mature.