Marking the 10th anniversary International Library of Children's Literature
Marking the 10th anniversary International Library of Children's Literature - its history and future
Yukiko Saito
Director General, International Library of Children's Literature
This is a translation of the article of the same title in the NDL Monthly Bulletin No. 590 (May 2010).
Contents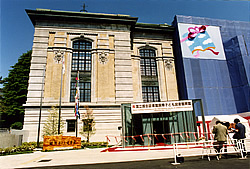 Partial opening of the ILCL on May 5, 2000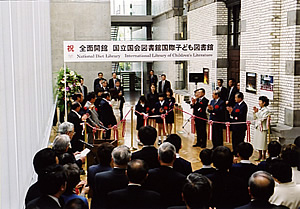 Tape cutting at the full inauguration ceremony on May 4, 2002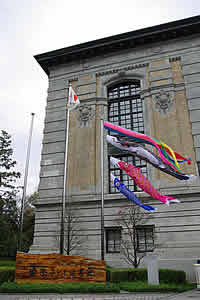 Carp streamers waving in the wind in front of ILCL on Children's Day, opening anniversary of ILCL
Backed up by the dreams and expectations of many people concerned with children's books and reading, the International Library of Children's Literature (ILCL) was established in January 2000, and started its services in May of the same year using a renovated one-third of the former Imperial Library building. ILCL has already marked its 10th anniversary this year. As a library having three roles, namely a special library for children's literature, a place for children to get close to books, and a museum of children's books, ILCL has been conducting a variety of activities since its full opening in May 2002, Taking this opportunity, I would like to look back on our progress, focusing on how the services of the National Diet Library (NDL) have been changed by the birth of ILCL.
1. Collecting and preserving children's literature in Japan and abroad
Before the establishment of ILCL, children's literature held by NDL was mainly published after the legal deposit system came into effect in 1948. Children's books published in the Meiji, Taisho and early Showa eras had not been completely collected, and especially children's magazines had many missing numbers. Besides, NDL held very few foreign children's books. Therefore, as a preparation for the opening of ILCL, we started to purchase basic children's books of foreign countries as well as reference books for the Researchers' Reading Rooms in FY1997. Then, in FY2000, we began to collect Japanese children's literature missing from the NDL collection.
NDL defines "children's literature" to be collected by ILCL as literature "whose main readers are assumed to be approximately eighteen years of age or less." Therefore, in addition to general children's literature, it includes school textbooks, study guides, and some young adult literature and comic books. Among these, school textbooks including teachers' manuals had not been acquired through the legal deposit system for a long time. ILCL started to collect them in FY2002. In FY2006 ILCL started the color microfilming of about 8,000 children's books in the Gordon W. Prange Collection, University of Maryland, which is a comprehensive collection of Japanese publications during the Occupation after WWII from 1945 to 1949.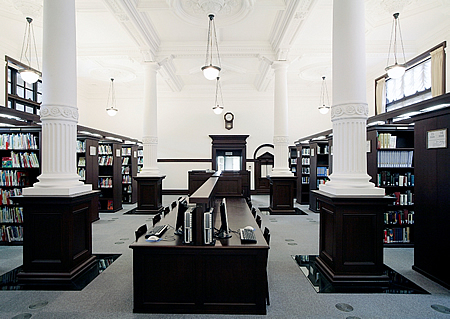 Researchers' Reading Room 2, retaining the atmosphere of the old Imperial Library (2nd floor)
Collecting materials actively by purchase and donation as well as through legal deposit over the past decade, ILCL's collection now reaches 400,000 volumes from about 120 countries. Children's literature is easily damaged, scattered or lost because children's use is given prioritiy over preservation. Therefore, at least one institution responsible for collecting and preserving them is needed in each country, but policy priority for children's books is not very high in most national libraries, which essentially function as research libraries. Thus, it is highly significant for ILCL to collect, preserve and provide children's literature not only of our country but also from all over the world, especially from countries of the Asian region. The activities of ILCL have given an impetus for some other countries to establish a national library for children's literature.
2. Being a comprehensive source of information on children's literature

Union Catalog Database of Children's Literature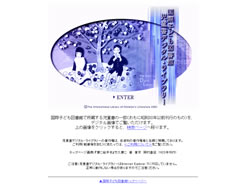 Digital Library of Children's Literature
The Union Catalog Database of Children's Literature was developed from FY1997 and was launched inside the library as well as through the Internet in 2000 when the library was partially opened. This union catalog database was a pioneering system at the time, aiming at the integrated provision of specialized information such as story outline and digital image data of the text in addition to bibliographic and holding information of domestic and overseas children's books and related materials. The provision of bibliographic and holding information started with the participation of five institutions holding a large number of children's books in Japan, and two more joined later. So, currently information from seven institutions and NDL are available. We have gradually enlarged the types of data, and at present the information shown on the chart below is searchable.
Chart: Progress in providing information about children's literature
Bibliographic and holding information Specialized information
FY2000
Launch of Union Catalog Database of Children's Literature
FY2001
Addition of classification and subject headings
FY2002
Addition of story outline
FY2003
Addition of information on prize-winning books and annotation of reference materials
FY2005
Launch of the Database of Japanese Children's Books translated into Foreign Languages

Full-text information (digital images of texts)
FY1996-FY1997
Copyright clearance
FY2000
Provision of about 1,500 titles inside ILCL
FY2003
Launch of Digital Library of Children's Literature
FY2011
Provision (planned) of digital images of children's books published in and before 1968 and magazines for children published in and before 1970 inside the whole NDL
For the provision of image data, in 2000 we started to provide inside the library about 1,500 titles of children's books published in Japan in and before 1950 (for picture books, in and before 1955), which were in the public domain or for which we had obtained permission. In 2003 we also made available on the Internet 322 titles in the public domain as the Digital Library of Children's Literature. With the addition of data afterward, digital images of 1,980 titles are available as of now.
ILCL has been developing and operating its own information system since the opening. Now that it has been decided to progressively integrate the system into the infrastructure of the whole NDL, we are making preparations to migrate the Union Catalog Database of Children's Literature over to the union catalog of the next generation before the end of FY2011 and to unify the Digital Library of Children's Literature and the Digital Library from the Meiji Era within FY2010. In addition, after the completion of the digitization of materials under way at present, digital images of children's books published in and before 1968 and magazines for children issued in and before 1970 will be available in three facilities of NDL.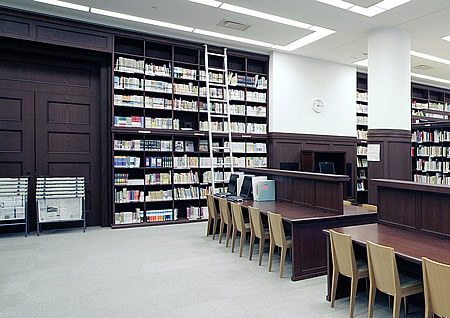 Researchers' Reading Room 1 (2nd floor)
3. Support for people engaged in children's library services
One of the basic roles of ILCL is to "support people in the front line of children's library services and their activities." NDL has long provided services to public libraries, but not to school libraries. How to support school libraries became an issue for ILCL.
As the number of school libraries exceeded 40,000 and ILCL has usually only one copy of deposited materials, we decided not to enlarge our interlibrary loan service to school libraries, but to provide the "Book Sets Lending Service to School Libraries" in which a book set of about 50 volumes on the theme of international understanding is lent out for a month. We started the lending service with the "Korean set" in November 2002. We have revised the contents and increased the kinds of sets every year, and currently seven kinds of sets are available. 72,765 volumes had been lent out to a total of 1,512 schools by the end of March 2010. The number of public libraries providing such book set lending services to school libraries has increased during this period. ILCL's service has played a certain role as a model project of cooperation between public libraries and school libraries.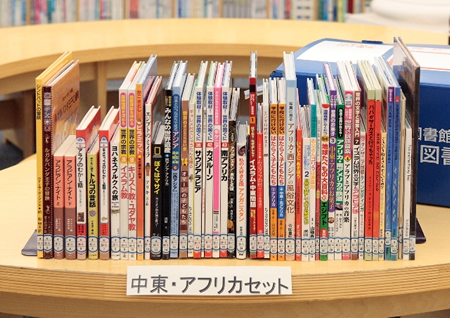 "Middle East and Africa set" of the Book Sets Lending Service to School Libraries
In addition, an off-site copying service (since FY2002, registration required) and a reference service via e-mail (since August 2010, registration required) are available for school libraries.
Since the traditional one-to-one service for libraries has a limitation in handling, we decided to enhance the information provision via the Internet, and the Website for people linking children and books (in Japanese) was opened on the ILCL website in March 2010 as a place for information gathering and information exchange by people engaged in services for children at public libraries, school libraries and other libraries. We also launched an e-mail newsletter (in Japanese) and hope you will subscribe to it.
Training for people engaged in children's library services was also an emerging issue for ILCL. The ILCL Lecture Series on Children's Literature was held with outside experts as well as ILCL staff as lecturers for the first time in FY2004 and it has since been held once a year on different themes. While the library service for children is said to be based on knowing "books," "children" and "method to link children and books," the lecture series aims to deepen knowledge about books using the ILCL collections.
4. Services for children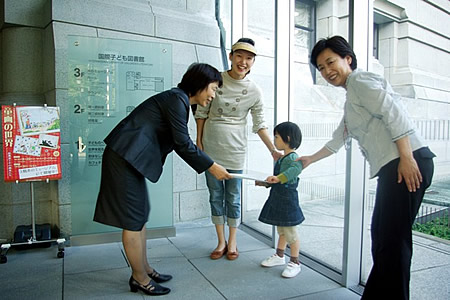 The number of visitors exceeded one million people in October 2008
NDL initially envisioned that ILCL, as a national library, should provide such services for children as a "digital library service for children across the country available through local libraries and schools" and "exhibitions, various events, tours, etc. for children who visit ILCL." However, as a result of extensive discussions including in newspapersi, we decided to provide a reading service and a readers' advisory service as well. Timed with the full opening in FY2002, "Children's Library," "Meet the World" room and "Story Hour Room" were newly opened on the first floor, separate from the reading rooms for adults on the second floor, with which the library embarked on the full-fledged services for children which had been an unknown area for NDL, except for a certain period after WWIIii . At present, about 10,000 volumes of children's books are available in the "Children's Library," as well as about 1,500 volumes in the "Meet the World" room. Story hours are provided on weekends, various events are held on holidays such as summer vacations, and group tours are conducted on weekdays. ILCL is full of children and their parents especially on weekends, and it has taken root as a "place where children meet books," combined with the attractions of the building itself.
As regards the digital library service, in addition to the above-mentioned Digital Library of Children's Literature, ILCL has produced the Picture Book Gallery which shows masterpieces of picture books of Japan, the U.S. and Europe since the inception up to the 1930s under specific subjects, since FY1998. Seven exhibits as well as works published in the "Kodomo no Kuni" are currently available in the Picture Book Gallery. In April 2010, we launched a website for children named the NDL Kid's Website (in Japanese), which had been on the back burner, and are now conducting studies on an online catalog for children that will be available via the Internet. The digital library service for children is entering a new phase after ten years.
5. Activities as a "museum of children's books"
Since its opening, ILCL has put emphasis on exhibitions as an effective way to widely introduce the charm of children's literature to the public, and 34 exhibitions have been held. Since FY2002, a small regular exhibition has also been shown in the Hall. This year, two exhibitions commemorating our 10th anniversary and the National Year of Reading, as well as enjoyable events, will be held. We look forward to your visit to Ueno Park where ILCL is situated.
The stacks of ILCL, which support our library's services, will be full in FY2012. There are also inadequate services because of the facility constraints. To resolve the situation, ILCL plans the extension and renovation of our facilities, and is already embarked upon the design work. Meanwhile, we will maintain our present services and focus our efforts especially on the distribution of information which is useful for people engaged in children's library services across the country.
i "Jidosho no mekka dou katsuyo (How to make use of the key site of children's literature)" Yomiuri Shimbun, September 1, 1996, morning edition ii NDL opened a reading room for children in the temporary building of the former Akasaka Detached Palace and provided readers services of children's literature from June 1948 through March 1950. Children between the ages of 10 and 14 could enter the library.