2015-2016 ILCL Renewal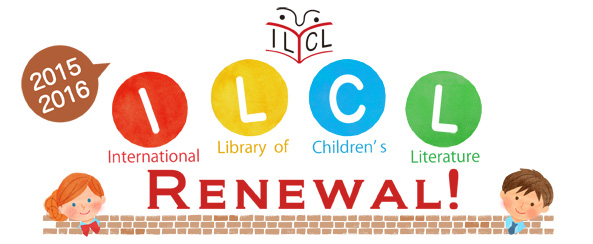 ILCL's new annex "Arch Building" was completed in 2015 and new services started sequentially from 2015 to 2016.
Brick Building
For both adults and children
Floors and Rooms
Overview
3F
Hall
An exhibition which introduces the history and attraction of the library is newly available. Events such as concerts are also held here.
Museum
Exhibitions which cover a variety of subjects on children's literature are held.
2F
Teens' Research Room
(former Researchers' Reading Room 1)
A new room with materials mainly useful for teens' research is available. (Feb. 2016-)
Gallery of Children's Literature
(former Researchers' Reading Room 2)
A gallery to show the history of Japanese children's literature is available, where you can handle and enjoy the books. (Feb. 2016-)
1F
Children's Library, Meet the World, Story Hour Room
A new area where you can take off your shoes and read books is available in the Children's Library. (Mar. 2016-)
Common Room
(former Office)
A room for resting, eating and nursing is available. (Nov. 2015-)
Arch Building
As a library specialized in children's literature
Floors and Rooms
Overview
3F
Office
2F
Researchers' Reading Room
Two existing reading rooms (Researchers' Reading Room 1 & 2) were unified into one spacious and practical room. (Sep. 2015-)
1F
Seminar Rooms
Lectures, trainings, and events for children are held.
B
Stacks
Stacks for approx. 650,000 volumes were newly extended in the Arch Building basement in order to ensure the future preservation environment, in addition to the existing stacks in the Brick Building with a capacity of approx. 400,000 volumes, which is close to full.