Exhibition "Ciao! Italia -'Fantasista Spellbinders' of children's books"
* This exhibition has ended.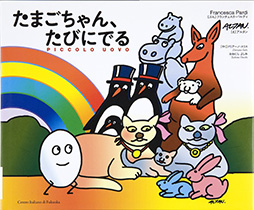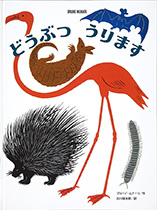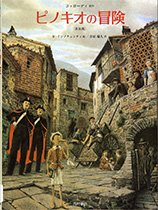 Examples of the books on display
From the left:
Tamago-chan, tabi ni deru, written by Francesca Pardi and illustrated by Altan, translated by Doriano Sulis and Yoshimi Otani, Italia Kaikan Shuppanbu 2013
Dobutsu urimasu, written and illustrated by Bruno Munari, translated by Shuntaro Tanikawa, Froebel-Kan 2011
Pinokio no boken, original story by Carlo Collodi, illustrated by Roberto Innocenti, translated by Mizuhito Kanehara, New edition, Nishimura Shoten Tokyo Shuppan Henshubu 2013
The exhibition includes a selection of nearly two hundred eighty books from 58 ingenious authors and illustrators who have received the Primio Andersen, Italy's highest recognition of the creators of children's books, during the period from 1982 (when the prize was founded) to 2015.
The Italian picture books featured in this exhibition contain a rich variety of colors and innovative structure, through which lively descriptions of the characters and the wondrously beautiful landscapes of Italy are conveyed. The stories overflow with imagination and provide a revealing glimpse of life in Italy.
This exhibition includes works from both well-known authors, such as Roberto Innocenti and Roberto Piumini, to those you might be encountering for the first time. Enjoy a great variety of illustrations and inspiring tales from these fascinating children books from Italy.
Exhibition "Ciao! Italia -'Fantasista Spellbinders' of children's books"
Organizers
International Library of Children's Literature
Date
From October 25, 2016 (Tue.) to December 25, 2016 (Sun.)
Closed
Mondays, public holidays, the third Wednesdays (for refiling)
Hours
9:30 a.m.-5:00 p.m.
Venue
Brick building 3F Museum, International Library of Children's Literature (Ueno Park) [ACCESS]

Admission Free