About the Facilities
Brick Building
| | |
| --- | --- |
| Structure | Brick building reinforced by steel frame; extensions are reinforced concrete |
| Size | One floor underground, three floors above ground |
| Total floor area | Approximately 6,671 square meters |
| Storage capacity | Approximately 400,000 volumes |
Preservation and Renovation of the Historic Building
In renovating the early twentieth-century building to house the International Library of Children's Literature, the NDL sought to preserve the design and structure that is the legacy of an earlier era, while refurbishing the building using earthquake-resistant structures to minimize damage in a major earthquake.
Meet the World (the former VIP room), Gallery of Children's Literature (the former Special Reading Room), Museum (the former Reading Room), and the Grand Staircase were preserved as examples of historic architecture after being restored.
The architectures of three different eras (Meiji, Showa and Heisei) are united and renovated as a children's library, which preserves its value as architectural heritage as well as developing a new function and providing a new environment for the public.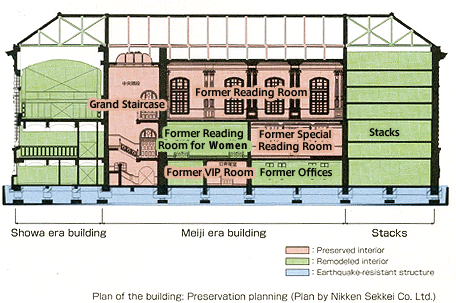 Arch Building
| | |
| --- | --- |
| Structure | Extensions reinforced concrete |
| Size | Two floors underground, three floors above ground |
| Total floor area | Approximately 6,090 square meters |
| Storage capacity | Approximately 650,000 volumes |
for more about the architecture
CDNLAO Newsletter No. 55, March 2006   (issued by the National Diet Library)
Architecture of the International Library of Children's Literature: Preservation and Renovation of an Old Brick Building from the 1900's