Let's go through Ueno Forest to the library! A brick building over 100 years old
* This exhibition has ended.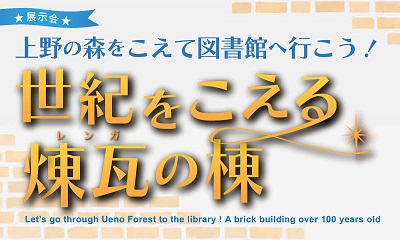 The International Library of Children's Literature (ILCL) opened in 2000 in a building that was originally constructed during the Meiji-era as Japan's Imperial Library, which was renovated and expanded while preserving and restoring the structure's original interior and exterior design.
This exhibition reviews the architectural design and history of the ILCL facility with a special emphasis on the Brick Building, which has been designated a metropolitan historic building by the Tokyo Metropolitan Government. Although photography is usually prohibited, visitors will be allowed to take photos of the venue freely during this exhibition.
The Brick Building has been a beloved Tokyo landmark for generations, and we hope that this exhibition about its history will also pique your interest in the ILCL.
The aedicule: doors to stacks
A chandelier and decorative plasterwork on the ceiling
Wooden window sashes preserved in their original state
Adobe Reader is required to view Portable Document Format (PDF) files.

>> Download Adobe Reader (open link in new window)