> Chapter V Toy Books and Early Modern Picture Books
> (1) Evolution of printing techniques for illustrations in Great Britain

(1) Evolution of printing techniques for illustrations in Great Britain
In and after the second half of the 15th century, following the introduction of letterpress printing to Great Britain, text in books was printed using this technique, while woodcut printing was employed for illustrations. In the mid-16th century, the use of copper plating commenced, and this became the principal medium for printing illustrations in the 17th century.
In the late 18th century, Thomas Bewick (1753-1828) improved and revived wood engraving. This technique had the advantages of copperplate-like precision, a shorter time required for finishing and lower costs than copperplate printing, and being in relief like letterpress, therefore allowing for same-page printing of text and images. Consequently, by the mid 19th century, wood engraving had become the principal printing technique for illustrations in books, in place of copperplate printing. As for picture books, some engravers won praise as masters of their art, such as the Dalziel Brothers, who handled the illustrations by John Tenniel (1820-1914) for Alice's Adventures in Wonderland (1865) and fairy pictures by Richard Doyle (1824-1883).
As for coloring, for years no technique was available that would allow simultaneous multicolor printing. Accordingly, colors were applied manually and directly onto woodcut, copperplate or lithographic prints. Chromolithography was then invented and became the principal technique for coloring illustrations by the mid-19th century. In the late 19th century, wood engraving-based multicolor printing was developed in Great Britain, ushering the country into the golden era of multicolor picture books not found elsewhere. The premier engraver who led this era was Edmund Evans (1826-1905).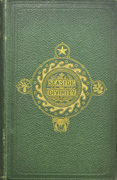 5-1-1
Seaside divinity /
by Robert W. Fraser ; with illustrations by Henry Noel Humphreys ... [et al.] ; engraved by Dalziel Brothers.
Publication etc.
London : J. Hogg and Sons, 1861.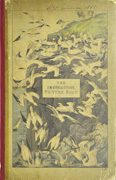 5-1-2
The instructive picture book, or, A few attractive lessons from the natural history of animals /
by Adam White.
Publication etc.
Edinburgh : Edmonston and Douglas, 1860.

5-1-4
Grandmother's spring /
written by Juliana Horatia Ewing ; depicted by R. Andre.
Publication etc.
London : Society for Promoting Christian Knowledge, [1885]

5-1-5
Alphabet of fruits.(Aunt Louisa's London toy books)
Publication etc.
London : F. Warne & Co., [18-- ]

Illustrated descriptions of printing techniques
Woodcut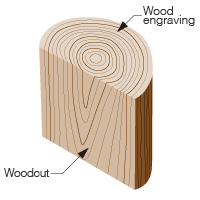 This technique, notably used for Ukiyoe, involves cutting wood along its grain to produce a relief matrix. The term "woodblock printing" usually refers to this technique, which is characterized by great ease of carving because of the use of soft wood.
Wood engraving
This relief-printing technique consists of using a block of hard wood, such as boxwood, and carving its cross section with a burin, an engraving knife often used on copperplates. Wood engraving developed mainly in Europe. Hard wood blocks enable engravings of fine delicate lines.
Letterpress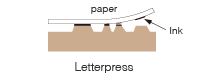 Letterpress is a type of relief printing which involves cutting away spaces around lines and surfaces to be black (visible), inking and pressing them from above onto a sheet of paper. Woodblock and movable type printing are included in this printing style.
Intaglio printing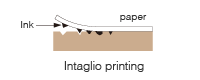 This technique involves incising lines and surfaces into the matrix, inking the incised parts, and strongly pressing paper onto the matrix. Copperplate etching is an example of intaglio printing.