> Chapter IV Birth of Adventure Novels

It is generally understood that adventure novels for boys began with The life and Adventures of Robinson Crusoe (1719) by Daniel Defoe (1661?-1731), which was followed by many other stories whose leitmotiv was survival in a remote area.
The success of adventure novels in the 19th century was backed by the idea that the exploration of the unknown would provide useful knowledge to children, the idea deriving from the philosophy behind knowledge-oriented enlightening books of the earlier years. In and after the 1840s, authors such as Frederick Marryat (1792-1848), Harriet Martineau (1802-1876), Robert Michael Ballantyne (1825-1894), George Alfred Henty (1832-1902), George Manville Fenn (1831-1909), and William Henry Giles Kingston (1814-1880), produced numerous adventure novels for boys, which as a literary genre became wildly popular and culminated in Treasure Island (1883) by Robert Louis Stevenson (1850-1894).
During the 70 years of the Victorian era, the British Empire nearly quadrupled its territory, exploring the interior of Africa and Pacific islands and colonizing Asian nations one after another. Against this backdrop, British people held an unprecedented strong interest in the world. The blossoming of adventure stories that responded to boys' longings for and interest in the unknown was inextricably linked to the extension of the British government's imperialist policy that bolstered hope and confidence in Great Britain as an invincible state.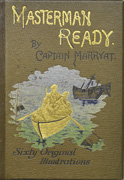 4-2
Masterman Ready, or, The wreck of the Pacific /
by Captain Marryat.
Publication etc.
London : F. Warne, [18--?]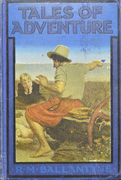 4-4
The coral island : a tale of the Pacific Ocean /
by R.M. Ballantyne.(Tales of adventure)
Publication etc.
London : J. Nisbet, [18--?]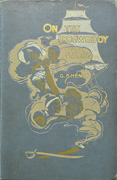 4-5
On the Irrawaddy : a story the first Burmese war /
by G.A. Henty ; with eight illustrations by W.H. Overend.
Publication etc.
London : Blackie, 1897.