> Chapter II Chapbooks and Fairytales

In Great Britain, fairytales that recount unrealistic events set in the distant past used to be considered inappropriate for children for religious reasons. In the late 18th century, however, all kinds of stories were made available through chapbooks (booklets featuring popular contents and cheaply distributed by peddlers), attracting and fascinating many children.
Behind the popularity of children's stories in chapbooks were the spread of reading by children in a wider social stratum through Sunday school and the growing desire of those children to read "their own stories" that had once been narrated orally. On the other hand, a movement condemning fairytales as unenlightened and superstitious from a religious, moral and educational perspective grew stronger during the same period, leading to the popularization of moralistic stories.
Nevertheless, fairytales continued spreading gradually, particularly after the publication by Newbery around 1768 of English translations of stories by Charles Perrault (1628-1703), who had been highly acclaimed in France. Other translations of children's stories and folktales from around the world followed, such as stories by Jacob Ludwig Karl Grimm (1785-1863) and Wilhelm Karl Grimm (1786-1859) in 1823 and Hans Christian Andersen (1805-1875) in the 1840s. The resulting revival of fairytales gave rise to a new literary trend of fantasy fueled by creativity and imagination.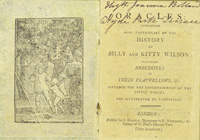 2-1
The Oracles : containing some particulars of the history of Billy and Kitty Wilson : including anecdotes of their playfellows, &c. : intended for the entertainment of the little world.
Publication etc.
London : Printed for J. Harris, [1804]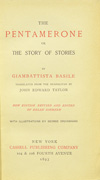 2-2
The Pentamerone, or, The story of stories /
by Giambattista Basile ; translated from the Neapolitan by John Edward Taylor ; with illustrations by George Cruikshank.(The Children's library)
Publication etc.
New York : Cassell, 1893.

2-4
The fairy ring : a collection of tales and traditions /
translated from the German of Jacob and Wilhelm Grimm by John Edward Taylor ; illustrated by Richard Doyle.
Publication etc.
London : J. Murray, 1857.