> Japanese Authors of Children's Literature: A Special-Feature Section of Outstanding Authors
Japanese Authors of Children's Literature: A Special-Feature Section of Outstanding Authors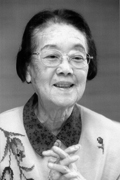 Momoko Ishii
1907-2008 List of books
Momoko Ishii was a children's literature scholar who, through her wide range of activities as an editor, translator and writer, unearthed the possibilities of children's literature.
She was born in the Urawa Town (present Saitama City), in Saitama Prefecture. After graduating from Japan Women's University, she became an editor, assisting Yuzo Yamamoto with the editing of Nihon shokokumin bunko [Series for Japanese young nationals], published by Shinchosha between 1934 and 1936, and editing and publishing the Japanese version of Hugh Lofting's Doritoru sensei afurika yuki [The story of Doctor Dolittle] (translated by Masuji Ibuse, published by Hakurin Shonenkan in 1941). She was also the translator for the Japanese version of Kuma no Pusan [Winnie-the-Pooh], published by Iwanami Shoten in 1940, which was her first work in translation. She translated and introduced many works of children's literature picture books throughout her career.
During World War II, she began writing Nonchan kumo ni noru [Non-chan rides the clouds], eventually publishing it in 1947 from Daichi Shobo. This fanciful, full-length story was popular with the public and was even made into a film.
After the war, she planned and edited Iwanami shonen bunko [Iwanami children's library] and Iwanami no kodomono hon [Iwanami children's books]. After leaving Iwanami Shoten in 1954, she was awarded a grant from the Rockefeller Foundation. By using this grant, she went to the United States to study the state of children's books and to learn about children's libraries. After returning back to Japan, she opened a home library named 'Katsura bunko for children'. The practices she carried out at the bunko are collected in the book Kodomo no toshokan [Children's library], published by Iwanami Shoten in 1965.
Based on the debates of a research group that undertook a critical investigation of Japanese modern children's literature, Ishii coauthored Kodomo to bungaku [Children and literature](Chuokoron-sha, 1960) with Tomoko Inui, Shinichi Suzuki, Teiji Seta, Tadashi Matsui and Shigeo Watanabe. This publication sets out standards that "literature for children should be entertaining, clear and easy to understand," and it had a major effect on children's literature and children's publishing in Japan.
In her later years, Ishii published Maboroshi no akai mi [Phantasmal red fruit] (Iwanami Shoten, 1994), an autobiographical full-length novel and the seven-volume Ishii Momoko shu [The Momoki Ishii collection] (Iwanami Shoten, 1998–1999). In 1997, she also became a member of the Japan Art Academy.
She dedicated her life to providing rich literature to children and to continue thinking how it could be best done.